WHO RUNS BARTER TOWN????
well here's my latest design. this one started out as my attempt at getting an AC30 type tone, but turned into much more. with it you are able to go from a cleanish boost to a light OD, to a fuzz, depending on how you set the controls and how hot your pickups are.
there are 2 gain controls built around a 3 tranny germanium platform using some low leakage soviet ge's with a gain range of around 40-60. the Blaster pot is the main Gain control and the Master control does more of a mid/hi boost in gain. the Blaster pot is set up a bit like the AC30, but there is also the HI/LO switch which basically allows you to go from something like the AC's Top Boost channel to the AC's Normal channel. in the HI position this thing does a great treble booster impersonation with a real glassy, sparkling, top end and can get up to a very tight focused fuzz sound. in the LO position the tone gets filled out a bit and you have another octave on the low end. turn up the Master and Blaster controls and you end up with something like an AC30 crossed with a germanium fuzz. finally there is the Gas control which is your basic voltage starve pot. i found that this thing can survive on extremely low voltage(i ended up using a 350K pot) as there is still plenty of boost to bring the volume up. with the Gas down, the tone gets thicker and crunchier. very cool with your tone rolled off on the guitar as well for a super nasty thick fingerpicking or slide blues fuzz. very lofi! there really are a lot of options with this thing- boost, OD, or fuzz, and it's got tons of hi-mids. it'll cut through a mix for damn sure. i might end up doing a high end roll off pot or switch at the end of the circuit as well, but that's kind of an afterthought.
i have a feeling that this is going to be my go to box for any type of garage/punk/blues kinda stuff. i haven't tried it out with my big amps yet, hopefully soon.
attached is the schematic and PCB layout(unverified- all my shit is packed for the move this weekend). also just so there is no confusion- the layout is made for some larger size components that i wanted to use. hopefully i'll get some sound samples done soon and post em up. thanks to SoulSonic for the help with the extra gain control, Bjorn Juhl, and the Vox AC30 for inspiration. cheers.
jXXXXXUPDATEXXXXXX
just a little heads up. when i intially tested this circuit, i did so with my Airline T&C which has very low output pickups. with mid to high output pickups, it gets into a pretty blazing fuzz with the gain up. this could be tamed by simply putting some resistance in the circuit at the input with a pot. of course you would then be up to 3 gain controls, but hey, that's what this shit is all about right? but seriously, you could replace the Blaster pot with a fixed resistor and all would be well. another option would be to ditch the gas control, and add the pregain. this could be done by those more interested in traditional,"nice" tones.
XXXXXXXXUPDATE- THE PCB LAYOUT IS VERIFIED!!XXXXXXXXXX
XXXXXXXXXXXXXXXUPDATEXXXXXXXXXXXX
- THERE ARE A COUPLE OF ERRORS WITH THE LABELING OF THE POTS AND SWITCHES ON THE LAYOUT, THE GAS AND MASTER POTS SHOULD BE 3 AND 2 INSTEAD OF 1 AND 2. THE SWITCH SHOULD BE 1,3,2 INSTEAD OF 2,3,1 FROM LEFT TO RIGHT. I HAVE A BETTER LAYOUT THAT I WILL POST SOON AS WELL.
ONE MORE THING-
THE MASTER POT IS BETTER AT 25K RATHER THAN 50K.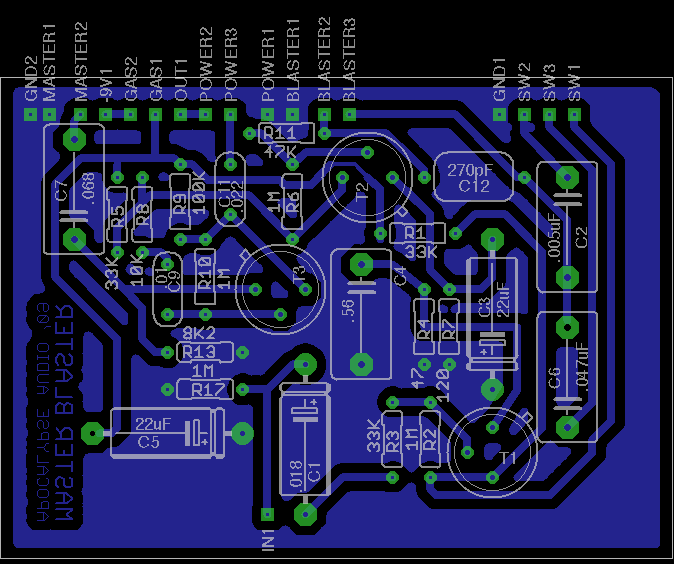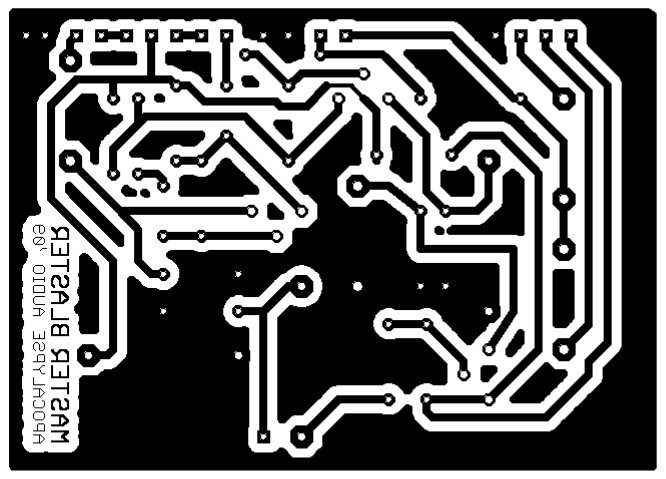 XXXXXXXXXXXXXXXXXUPDATEXXXXXXXXXXXXXXXX
here is a smaller, tighter, layout, for use with normal sized components. unverified as of now, but eagle says it's good.
another cool mod is to replace the .0047 cap after the switch with a 470K/470pF combo in parallel. replace the .047uF cap with a .47. this makes the 2 channels very different- one lighter and a bit brighter, and the other thicker and heavier.